NAMD, recipient of a 2002 Gordon Bell Award, is a parallel molecular dynamics code designed for high-performance simulation of large biomolecular systems. Based on Charm++ parallel objects, NAMD scales to hundreds of cores for typical simulations and beyond 200,000 cores for the largest simulations. NAMD uses the popular molecular graphics program VMD for simulation setup and trajectory analysis, but is also file-compatible with AMBER, CHARMM, and X-PLOR. NAMD is distributed free of charge with source code. You can build NAMD yourself or download binaries for a wide variety of platforms. Our tutorials show you how to use NAMD and VMD for biomolecular modeling.
Want to make NAMD and VMD better? Join our team! We are hiring a research programmer. Apply by May 20.
The 2005 reference paper Scalable molecular dynamics with NAMD has over 1000 citations as of March 2010.
Spotlight: Shield Against Influenza (Oct 2012)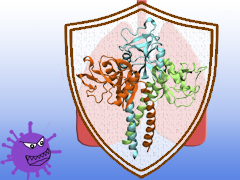 image size: 76.8KB
made with VMD
The fall flu season is coming. It is time to get your flu shot! Many people may still remember the influenza A H1N1 flu ("swine flu") pandemic of 2009, which caused 280,000 deaths worldwide. The best way to prevent the flu is to get vaccinated with a flu shot or use the flu nasal spray vaccine. However, rapid evolution of the flu virus constantly requires new vaccines. Fortunately, the immune system has several defensive mechanisms in the lung to clear inhaled pathogens. One of these mechanisms involves surfactant proteins which induce aggregation of viral particles and, thereby, prevent infection, serving as a front-line host defense. Recently, researchers found that surfactant protein D (SP-D) from pigs exhibits particularly strong inhibitory activity, more so that human SP-D. This discovery leads researchers to investigate SP-D structure-related antiviral activity. In a recent experimental-simulation study, crystallographic analysis of pig and human SP-D showed that a loop involved in viral binding on pig SP-D is longer than the respective loop on human SP-D; molecular dynamics simulation revealed that the longer loop of pig SP-D has higher flexibility than that of human SP-D, suggesting that the flexible loop region could facilitate strong binding of SP-D to virus. Based on this finding, one can develop new nasal spray anti-flu protection through other structural modification of human lung surfactant proteins. More on our lung surfactant protein website.
Overview
Having Problems with NAMD?
Why NAMD? (in pictures)
Steered Molecular Dynamics
Interactive Molecular Dynamics
Features and Capabilities
Performance Benchmarks
Publications and Citations
Credits and Development Team
Availability
Read the License
Download NAMD Binaries (also VMD)
Build from Source Code
Run at NCSA, SDSC, NICS, or Texas
Training
"Hands-On" Workshop in Pittsburgh

(June 10-14, 2013) Apply by May 12.
Charm++ Workshop in Urbana (April 15-16, 2013)

"Hands-On" Workshop in Urbana (Oct 22-26, 2012)
In-Residence Training in Urbana (July 16-27, 2012)
Charm++ Workshop in Urbana (May 7-9, 2012)
Membrane Protein Modeling Workshop in Chicago (May 1-2, 2012)
"Hands-On" Workshop in Urbana (Feb 11-15, 2012)
Online Workshop on Simulating Membrane Channels (Nov 28-Dec 1, 2011)
"Hands-On" Workshop in Bremen (Oct 17-21, 2011)
Online Workshop on Simulating Membrane Channels (Aug 1-4, 2011)
In-Residence Training in Urbana (July 25-Aug 5, 2011)
"Hands-On" Workshop in Pittsburgh (May 16-20, 2011)
Charm++ Workshop in Urbana (April 18-20, 2011)
"Hands-On" Workshop in Atlanta (March 21-25, 2011)
GPU Programming Workshop in Urbana (Aug 7-8, 2010)
"Hands-On" Computational Biophysics Workshops
Older Workshops
Support
Announcements
NAMD 2.9 New Features
NAMD 2.9 (April 2012)
2011 User Survey Report
NAMD 2.8 New Features
NAMD 2.8 (May 2011)
NAMD 2.7 New Features
NAMD 2.7 (Oct 2010)
How to Cite NAMD
Previous Announcements
Documentation
Adaptive Biasing Force Website
Interactive Molecular Dynamics Tutorial
Related Codes, Scripts, and Examples
NAMD Wiki (Recent Changes)
Older Documentation
News
Poliovirus Simulated on BlueGene/Q

Virus Structure Determined with Blue Waters

Kale, Schulten Win Fernback Award
Making History on Blue Waters
Hello Siri, Please Start My Experiment Now
Blue Waters Early Science System
Proteins Help DNA Replicate Past Damage
SC11: Scaling to 100 Million Atoms
Copper Folds Parkinson's Plaques
Mechanics of Membrane Proteins
Molecular Mystery of Blood Clotting
Alzheimer's Misfolding Simulated
When Cellular Bones Soften
Getting the Rabbit in the Hat
Insights Into Deafness
Molecular Machines Replicate and Repair DNA
Sound Science
Blueprint for the Affordable Genome
Mechanics of Hearing and Deafness
NAMD Paper Has 1000 Citations
Closing the Gaps
Inside the Swine Flu Virus
GPU Acceleration in Development
NCSA IACAT to Accelerate NAMD
Parkinson's, Alzheimer's Diseases
Knock, Knock, Who's There?
Step Up to the BAR Domain
Older News Items