NAMD, recipient of a 2002 Gordon Bell Award and a 2012 Sidney Fernbach Award, is a parallel molecular dynamics code designed for high-performance simulation of large biomolecular systems. Based on Charm++ parallel objects, NAMD scales to hundreds of cores for typical simulations and beyond 500,000 cores for the largest simulations. NAMD uses the popular molecular graphics program VMD for simulation setup and trajectory analysis, but is also file-compatible with AMBER, CHARMM, and X-PLOR. NAMD is distributed free of charge with source code. You can build NAMD yourself or download binaries for a wide variety of platforms. Our tutorials show you how to use NAMD and VMD for biomolecular modeling.
Spotlight: QwikMD - Gateway to Easy Simulation (October 2016)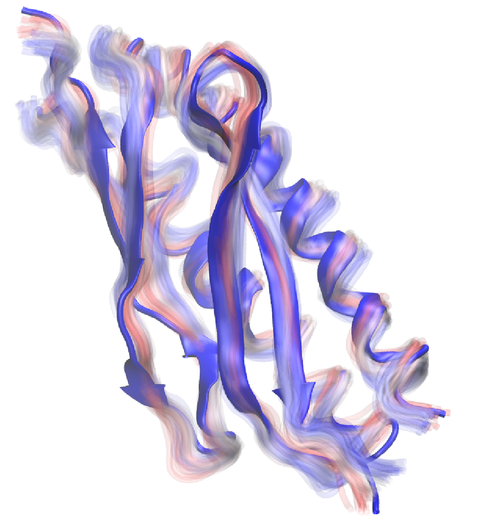 image size: 1.2MB
made with VMD
Everything that living things do can be understood in terms of jigglings and wigglings of atoms. Richard Feynman's remark in the early 1960's summarizes what is today widely accepted, namely, that molecular processes can be described by the dynamics of biological molecules, therefore connecting protein dynamics to biological function. Molecular dynamics (MD) is by far the best tool to investigate jigglings and wigglings of biological systems. Advances in both software and hardware have spread the use of MD, however the steepness of the learning curve of the methodology of MD remains high. To assist new users in overcoming the initial barrier to use MD software, and to help the more advanced users to speed up tedious steps, we have developed the QwikMD software, as decribed in a recent paper. By incorporating an easy-to-use point-and-click user interface that connects the widely used molecular graphics program VMD with the powerful MD program NAMD, QwikMD allows its users to prepare both basic and advanced MD simulations in just a few minutes. At the same time, QwikMD keeps track of every step performed during the preparation of the simulation, allowing easy reproducibility and shareability of protocols. More information about QwikMD, as well as introductory tutorials are available on our QwikMD webpage. QwikMD is available in VMD 1.9.3 or later versions.
Overview
Why NAMD? (in pictures)
How to Cite NAMD
Features and Capabilities
Performance Benchmarks
Publications and Citations
Credits and Development Team
Availability
Read the License
Download NAMD Binaries (also VMD)
Build from Source Code - Git access now available
Run at NCSA, SDSC, NICS, or Texas
Training
Enhanced Sampling and Free-Energy Workshop (Sept 10-14, 2018)
NAMD Developer Workshop in Urbana (June 11-12, 2018)
"Hands-On" Workshop in Pittsburgh (May 21-25, 2018)
"Hands-On" QM/MM Simulation Workshop (April 5-7, 2018)
Enhanced Sampling and Free-Energy Workshop (Sept 25-29, 2017)
"Hands-On" Workshop in Pittsburgh (May 30-June 2, 2017)
NAMD Developer Workshop in Chicago (May 22-23, 2017)
"Hands-On" Workshop in Urbana (April 17-21, 2017)
PRACE School on HPC for Life Sciences (April 10-13, 2017)
Older "Hands-On" Workshops
Support
Mailing List Issues for Yahoo.com Addresses
Announcements
NAMD 2.13 Release
(Nov 2018)
NAMD 2.13 New Features
One-click NAMD/VMD in the cloud
QM/MM Interface to MOPAC and ORCA
QwikMD GUI Released in VMD 1.9.3
Previous Announcements
Documentation
Related Codes, Scripts, and Examples
NAMD Wiki (Recent Changes)
Older Documentation
News
Prepping for Next-Generation Cray at NERSC

Supercomputing HIV-1 Replication
How GPUs help in the fight against staph infections
Computational Microscope Gets Subatomic Resolution
Opening New Frontiers in the Battle Against HIV/AIDS
HIV Capsid Interacting with Environment
Assembling Life's Molecular Motor
Older News Items