Highlights of our Work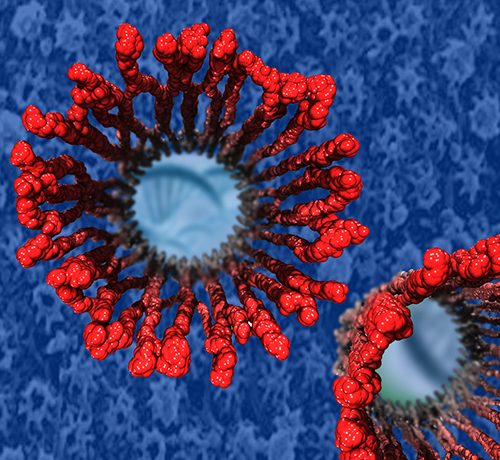 image size: 579.0KB
made with VMD
Nanoengineers building nanodevices achieve technological solutions at scales of 100 nanometers or 0.0001 mm. Nanoengineering is a brand new human technology, just a few decades old. In living cells, nanoengineering solutions are actually a few billion years old and therefore much more intricate. An impressive example is the nuclear pore, hundreds to thousands of which dot the nuclear membrane that separates in eukaryotic cells the genome and its molecular control factors from the cytoplasm of the cell. Only since very recently could cell biologists begin to resolve the molecular architecture of the nuclear pore. Given the pore's many-fold functions, like letting small molecules pass easily, but larger ones only as cargoes of special proteins, the transport factors, or adapting the pore size when large cargoes need to pass, the architecture of the nuclear pore is complex, involving an assembly of hundreds of proteins. The interior of the pore is filled with 600 amino acid-long "finger" proteins tethered at the periphery. The finger proteins are largely disordered such that experimental methods lack resolving power and computational modeling is needed to figure out their dynamic arrangement and traffic control function, but such modeling was largely unfeasible; only a small fraction of the nuclear pore volume could be covered computationally. The advent of petascale computing increased the size-scale of biomolecular simulations hundred-fold and a
recent report
employing the programs
NAMD
and
VMD
took advantage of the new generation of computers, simulating the dynamic, disordered arrangement of nuclear pore proteins. The simulations, still at an early stage, suggest a detailed, atomic level picture of the nuclear pore interior together with an explanation of molecular traffic control. More on our
nuclear pore website
.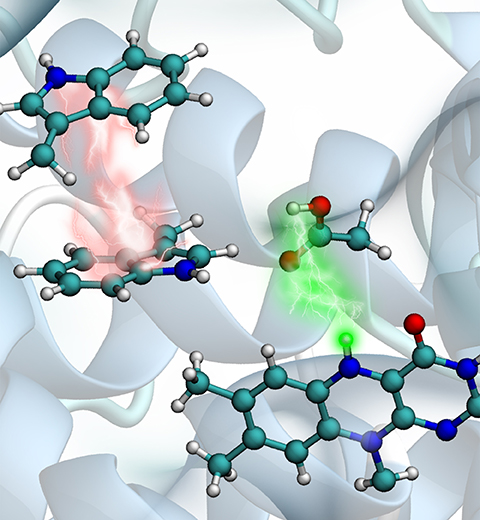 image size: 818.1KB
made with VMD
Animals and plants possess internal clocks that attune them to the daily or solar as well as to the tidal or lunar rhythm on Earth. A key blue-light receptor serving for this purpose is a protein called cryptochrome. Another apparent role of cryptochrome is that of a sensor for the geomagnetic field. In this role cryptochrome assists migratory birds in long-range navigation (see
February 2012
,
July 2010
,
July 2009
, and
April 2007
highlights). The magnetoreceptor function of cryptochrome arises from light-induced electron transfer between a flavin cofactor and a tryptophan residue. A
recent study
shows now that subsequent further electron transfers yield a pair of so-called entangled, freely to precess, electron spins spaced sufficiently far apart to establish cryptochrome's sensitivity to the geomagnetic field. The study reveals how, through a combination of classical motion of the protein and quantum dynamics of some of its electronic degrees of freedom the sequential electron transfer comes about and leads to the two widely separated electron spins. These spins act much like recently invented quantum computers, except that their role in migratory birds is to act as a light-driven magnetic compass. More on our
cryptochrome webpage
.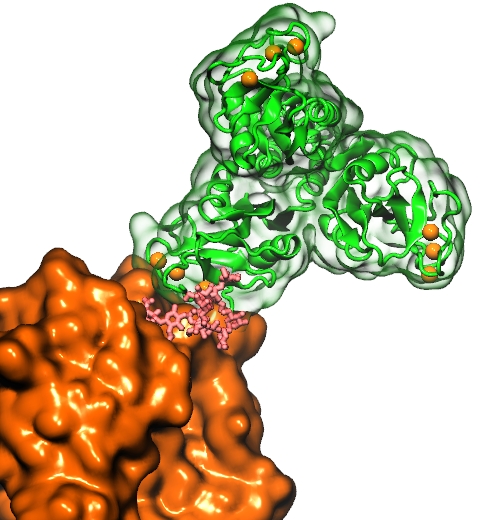 image size: 199.7KB
made with VMD
Our body uses several defense mechanisms against seasonal flu, the common affliction caused by influenza viruses. By taking a yearly flu shot, our body's defense based on antibodies is trained and envoked. A defense system
not
based on antibodies acts at the very front line of influenza virus attack, namely the lungs. For this protection the body uses so-called lung surfactant proteins that coat the inner lining of the lungs to keep a wet film on the lung surface needed for oxygen-carbon dioxide exchange. The lung surfactant proteins also serve as police against influenza viruses. For this purpose the lung surfactant protein D (SP-D) recognizes a protein component of the virus surface, namely hemagglutinin, and handcuffs the sugar molecules bound to hemagglutinin. A previous experimental-simulation study (see
October 2012 highlight) found that SP-D of pigs exhibits a stronger inhibitory activity against influenza A virus in this regard than does human SP-D. In
a recent study
, researchers have now boosted the protective ability of human SP-D by introducing mutations. Molecular dynamics simulations using
NAMD
suggest that the mutated human SP-D employs a different and stronger blocking mechanism on the active site of influenza A virus than native SP-D does. Combined with experimental results, the simulations suggest a mechanism through which SP-D acts, namely, by handcuffing viruses together and, thereby, preventing viral entry into cells. The findings from this research might lead to a new protection against seasonal flu, namely a nasal spray containing mutated lung surfactant proteins that strengthen a person's armada of defense proteins on the lung surface. More on our
lung surfactant protein website
.