Highlights of our Work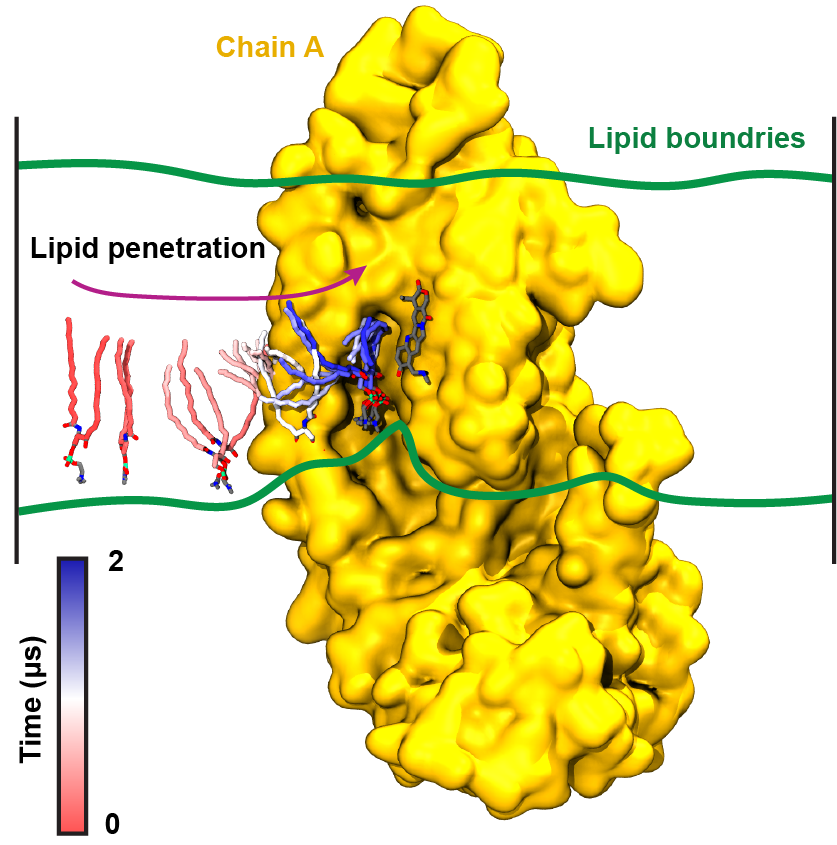 ABCG2, which is a crucial protein in development of multidrug resistance in cancer cells, is a transporter machine, acting like a vacuum cleaner in the membrane that removes a wide range of drugs from the cell. Given its heavily fatty environment, it's not surprising that its function is highly influenced by lipids and cholesterol. To shed light on the underlying mechanism, cryo-EM and functional assays in the
Locher lab at ETH Zürich
, were combined with computational microscopy using
NAMD
and
VMD
at the
Center
, to discover, for the first time, that lipids can enter the protein's binding pocket and directly interact with the bound drugs. More interestingly, cholesterol is found to guard the binding pocket's gates from other lipids, thus accelerating the transport function of the protein. Read more about the study in a recent
PNAS
paper.
Spinster (Spns) transporters are critical for lipid transport across the cellular membrane, a process that regulates growth and migration of the cell in human body. Yet, the details of their molecular mechanism which could potentially help drug hunters, have remained elusive. Guided by DEER measurements and site-directed mutagenesis performed in
Dr. Reza Dastvan's lab (St Louis University)
, molecular dynamics simulations by the Center's researchers were used to identify unknown conformational states of a Spns transporter (HnSpns). This systematic study reveals conserved proton-binding switches that modulate the structural transitions of the transporter, and thereby shed light on its proton-coupled mechanism. The simulations were performed with
NAMD
and analyzed by
VMD
. Read more in a
Nature Communications
.