Spotlight: How Membranes Curve (Feb 2013)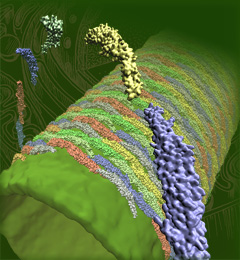 image size: 1.3MB
Olga Svinarski and VMD
The cells of higher life forms, so-called eukaryotic cells, are subdivided through many internal membranes made of lipid bilayers. The internal membranes assume numerous shapes, like spheres, tubes or parallel sheets. Outside of cells, biological membranes adopt usually flat shapes and the question arises, how do eukaryotic cells sculpt their inner membranes? The question of flat membrane sculpting is particularly interesting also as mature cells constantly produce new membrane shapes, for example spherical vesicles filled with certain biomolecules destined for release into the extracellular space, a process called exocytosis. The cell has many mechanisms available for sculpting its membranes, one of them relying on proteins called BAR domains that act from the surface of lipid bilayers. Molecular modeling with NAMD and VMD has provided valuable views of BAR domains at work in case of the so-called N-BAR family (see the earlier highlights Protein Teamwork, Jun 2009 and Proteins Sculpting Cell Interior, Sep 2008). Researchers report now an extension of the earlier studies to the F-BAR domain family of membrane sculpting proteins. The new modeling work is particularly exciting as it can be directly compared to electron microscopy images of membrane tubes sculpted from flat membranes in experiments done outside of cells. The new studies reveal how F-BAR domains sculpt tubular membranes through the shape of dimerized domains and through F-BAR domains not acting individually, but as an army of F-BAR domains adopting an ordered formation on one side of the membrane. More on our F-BAR domain web page.
Overview
Having Problems with NAMD?
Why NAMD? (in pictures)
Molecular Dynamics Flexible Fitting
Steered Molecular Dynamics
Interactive Molecular Dynamics
Features and Capabilities
Performance Benchmarks
Publications and Citations
Credits and Development Team
Availability
Read the License
Download NAMD Binaries (also VMD)
Build from Source Code
Run at NCSA, SDSC, NICS, or Texas
Training
"Hands-On" Workshop in Atlanta (Nov 3-7, 2014) Apply by October 19.

"Hands-On" Workshop in Bremen (June 16-20, 2014)
Charm++ Workshop in Urbana (April 29-30, 2014)
Cryo-EM Modeling Workshop in Urbana (Jan 8-10, 2014)
"Hands-On" Workshop in Urbana (Nov 18-22, 2013)
GPU Programming Workshop in Urbana (Aug 2-4, 2013)
"Hands-On" Workshop in Pittsburgh (June 10-14, 2013)
Charm++ Workshop in Urbana (April 15-16, 2013)
"Hands-On" Workshop in Urbana (Oct 22-26, 2012)
In-Residence Training in Urbana (July 16-27, 2012)
Charm++ Workshop in Urbana (May 7-9, 2012)
Membrane Protein Modeling Workshop in Chicago (May 1-2, 2012)
"Hands-On" Workshop in Urbana (Feb 11-15, 2012)
"Hands-On" Computational Biophysics Workshops
Older Workshops
Support
Mailing List Issues for Yahoo.com Addresses
Announcements
NAMD 2.10 New Features
NAMD 2.10b1
(Aug 2014)
NAMD 2.9 New Features
NAMD 2.9
(April 2012)
2011 User Survey Report
NAMD 2.8 New Features
NAMD 2.8
(May 2011)
NAMD 2.7 New Features
NAMD 2.7
(Oct 2010)
How to Cite NAMD
Previous Announcements
Documentation
Adaptive Biasing Force Website
Interactive Molecular Dynamics Tutorial
Related Codes, Scripts, and Examples
NAMD Wiki (Recent Changes)
Older Documentation
News
Big Ten Network "Computing a Virus" Feature

NAMD Paper Has 4000 Citations

Bolstering Extreme Scale Computational Biology

CUDA Achievment Award for Fighting HIV
Team learns how membrane transporter moves
Charm++-Related Events at SC13
Extreme Computational Biology at SC13
Editors' Choice: Best use of HPC in life sciences
Rapid parameterization of small molecules
NAMD Paper Has 3000 Citations
Code cracks HIV capsid, opens drug possibilities
HIV-1 Capsid Structure Determined
Poliovirus Simulated on BlueGene/Q
Virus Structure Determined with Blue Waters
Fashioning NAMD: A History of Risk and Reward
Kale, Schulten Receive Fernback Award
Making History on Blue Waters
Hello Siri, Please Start My Experiment Now
Blue Waters Early Science System
Proteins Help DNA Replicate Past Damage
SC11: Scaling to 100 Million Atoms
Copper Folds Parkinson's Plaques
Mechanics of Membrane Proteins
Molecular Mystery of Blood Clotting
Alzheimer's Misfolding Simulated
When Cellular Bones Soften
Getting the Rabbit in the Hat
Insights Into Deafness
Molecular Machines Replicate and Repair DNA
Sound Science
Blueprint for the Affordable Genome
Mechanics of Hearing and Deafness
NAMD Paper Has 1000 Citations
Closing the Gaps
Inside the Swine Flu Virus
GPU Acceleration in Development
NCSA IACAT to Accelerate NAMD
Parkinson's, Alzheimer's Diseases
Knock, Knock, Who's There?
Step Up to the BAR Domain
Older News Items