Spotlight: Waste into Fuel (Sept 2014)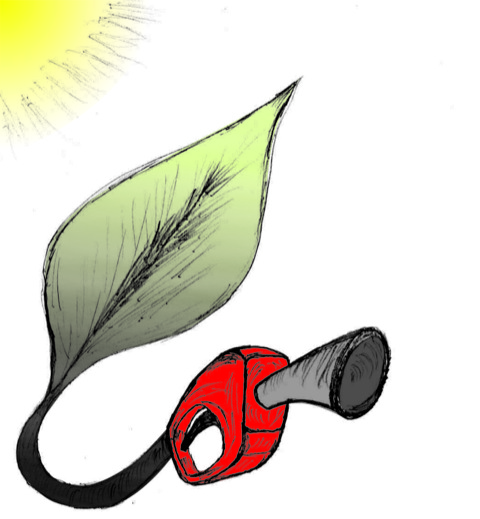 image size: 620.6KB
Biofuels are a well-known alternative to the largely used fossil-derived fuels, however the competition with food production is an ethical dilemma. Fortunately a solution is offered by second-generation biofuels, which can be produced from agricultural waste, or more specifically, from plant cell wall polysaccharides. Using the strategy of microorganisms, several enzymes are employed in the production of this advanced biofuel. However the biofuel industry faces problems such as the loss of efficiency of the enzymes that arises over time due to intermittent high concentration of non-suitable substrates. Simulations can guide biochemical experiments aimed at investigating the mechanism that makes the enzymes vulnerable to such substrates, helping the development of more efficient and, thereby, less costly enzymes. A recent study, based on molecular modeling with NAMD, reported that reduction of efficiency in an important enzyme, know as Man5B, is associated with a loss of the enzyme's flexibility. Molecular dynamis simulations showed that a poor substrate slows down a crucial opening and closing movement of the enzyme's catalytic cleft while a good substrate keeps the movement almost intact. The insight is of crucial importance since it suggests mutations to enzymes presently employed in second-generation biofuel production that need to be replaced less often and, thereby, rendering the production more cost-effective. Read more on our biofuels website.
Overview
Having Problems with NAMD?
Why NAMD? (in pictures)
Molecular Dynamics Flexible Fitting
Steered Molecular Dynamics
Interactive Molecular Dynamics
Features and Capabilities
Performance Benchmarks

Publications and Citations
Credits and Development Team
Availability
Read the License
Download NAMD Binaries (also VMD)
Build from Source Code
Run at NCSA, SDSC, NICS, or Texas
Training
"Hands-On" Workshop in Jülich (Aug 15-19, 2016)
Apply by July 18.

"Hands-On" Workshop in Pittsburgh (June 6-10, 2016)
NAMD Developer Workshop in Chicago (May 26-27, 2016)
Charm++ Workshop in Urbana (April 19-20, 2016)
"Hands-On" Workshop in Odense (Oct 12-16, 2015)
"Hands-On" Workshop in San Diego (Sept 21-25, 2015)
"Hands-On" Workshop in Okazaki (Sept 9-11, 2015)
"Hands-On" Workshop in Berkeley (August 3-7, 2015)
"Hands-On" Workshop in Pittsburgh (June 1-5, 2015)
Charm++ Workshop in Urbana (May 7-8, 2015)
"Hands-On" Workshop in Urbana (April 6-10, 2015)
"Hands-On" Workshop in Atlanta (Nov 3-7, 2014)
"Hands-On" Workshop in Bremen (June 16-20, 2014)
Charm++ Workshop in Urbana (April 29-30, 2014)
Cryo-EM Modeling Workshop in Urbana (Jan 8-10, 2014)
"Hands-On" Workshop in Urbana (Nov 18-22, 2013)
GPU Programming Workshop in Urbana (Aug 2-4, 2013)
"Hands-On" Workshop in Pittsburgh (June 10-14, 2013)
Charm++ Workshop in Urbana (April 15-16, 2013)
"Hands-On" Workshop in Urbana (Oct 22-26, 2012)
In-Residence Training in Urbana (July 16-27, 2012)
Charm++ Workshop in Urbana (May 7-9, 2012)
Membrane Protein Modeling Workshop in Chicago (May 1-2, 2012)
"Hands-On" Workshop in Urbana (Feb 11-15, 2012)
"Hands-On" Computational Biophysics Workshops
Older Workshops
Support
Mailing List Issues for Yahoo.com Addresses
Announcements
NAMD 2.12 New Features
NAMD 2.11 New Features
NAMD 2.11
(Dec 2015)
NAMD 2.10 New Features
NAMD 2.10
(Dec 2014)
NAMD 2.9 New Features
NAMD 2.9
(April 2012)
2011 User Survey Report
NAMD 2.8 New Features
NAMD 2.8
(May 2011)
NAMD 2.7 New Features
NAMD 2.7
(Oct 2010)
How to Cite NAMD
Previous Announcements
Documentation
Adaptive Biasing Force Website
Interactive Molecular Dynamics Tutorial
Related Codes, Scripts, and Examples
NAMD Wiki (Recent Changes)
Older Documentation
News
Antibiotic Resistance Through Efflux Pumps

Membrane Protein Breakthrough

Massive Flu Virus Simulations

Ion Channels in General Anesthesia

How HIV Defeats Cellular Defender

Key Component in Bacterial Decisions
TCBG Papers and Presentations at SC15
Charm++-Related Events at SC15
TCBG Reaches Milestone 40th Workshop
NAMD Paper Has 5000 Citations
Transport Cycle in Atomic Detail
Atomic Model of Immature Retrovirus
ANL Supercomputer Early Science Program
Cellulosomes: One of Life's Strongest Bonds
ORNL Supercomputer Readiness Program
Solving Puzzle-Like Bond for Biofuels
Real Science Using Stampede's Xeon Phi
App Puts Chemistry at the Tips of Users' Fingers
NAMD Powers Molecules by Theodore Gray
Big Ten Network "Computing a Virus" Feature
NAMD Paper Has 4000 Citations
Bolstering Extreme Scale Computational Biology
CUDA Achievment Award for Fighting HIV
Team learns how membrane transporter moves
Extreme Computational Biology at SC13
Editors' Choice: Best use of HPC in life sciences
Rapid parameterization of small molecules
NAMD Paper Has 3000 Citations
Code cracks HIV capsid, opens drug possibilities
HIV-1 Capsid Structure Determined
Poliovirus Simulated on BlueGene/Q
Virus Structure Determined with Blue Waters
Fashioning NAMD: A History of Risk and Reward
Kale, Schulten Receive Fernback Award
Making History on Blue Waters
Proteins Help DNA Replicate Past Damage
SC11: Scaling to 100 Million Atoms
Copper Folds Parkinson's Plaques
Mechanics of Membrane Proteins
Molecular Mystery of Blood Clotting
Alzheimer's Misfolding Simulated
When Cellular Bones Soften
Getting the Rabbit in the Hat
Insights Into Deafness
Molecular Machines Replicate and Repair DNA
Sound Science
Blueprint for the Affordable Genome
Mechanics of Hearing and Deafness
NAMD Paper Has 1000 Citations
Closing the Gaps
Inside the Swine Flu Virus
Older News Items