Breaking News
| | |
| --- | --- |
| NAMD and VMD are part of the team winning the 2020 ACM Gordon Bell Special Prize for high performance computing-based COVID-19 research, for the paper AI-Driven Multiscale Simulations Illuminate Mechanisms of SARS-CoV-2 Spike Dynamics, presented at Supercomputing 2020, Nov 18, 2020. | |
---
---
NAMD is able to achieve 9x throughput with version 3.0alpha running on NVIDIA A100 GPUs. Details available on the NVIDIA developer blog.
---
The new NAMD reference paper has been published online. The paper provides an overview of the many features available in NAMD, its scalability on CPU and GPU platforms on system sizes of up to a billion atoms, and the recent performance enhancements for GPU accelerators.
Spotlight: RNA Shredder (May 2016)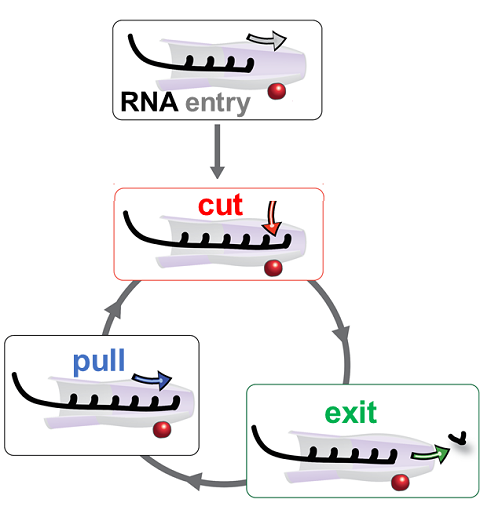 image size: 386.7KB
made with VMD
RNA molecules are continuously synthesized in living cells as carriers of biological information written in the sequence of basic RNA units, called nucleotides. To keep cells healthy, RNA molecules not longer needed or with errors have to be removed. A large barrel-like protein complex, the RNA exosome, is a molecular machine that degrades unneeded RNA molecules, pulling them inside its long internal channel and cutting them sequentially into single nucleotides. A new molecular dynamics study, employing NAMD, shows that a special active protein subunit of the exosome, called Rrp44, grips tightly the RNA molecule throughout its extended channel. Rrp44 grips RNA molecules with five or more nucleotides in length while their ending nucleotides get sequentially cut, whereas shorter RNAs are only weakly bound and unlikely to be cut. The simulations reveal how the exosome can act both as a molecular motor that pulls RNA, without energy input other than the one released in nucleotide cleavage, as well as an enzyme that cuts RNA. More information is available on our RNA exosome website.
Overview
Why NAMD? (in pictures)
How to Cite NAMD
Features and Capabilities
Performance Benchmarks
Publications and Citations
Credits and Development Team
Availability
Read the License
Download NAMD Binaries (also VMD)
Build from Source Code - Git access now available
Run at NCSA, SDSC, NICS, or Texas
Training
NAMD Developer Workshop in Urbana (August 19-20, 2019)
PRACE School on HPC for Life Sciences (June 10-13, 2019)
"Hands-On" Workshop in Pittsburgh (May 13-17, 2019)
Charm++ Workshop in Urbana (May 1-2, 2019)
Enhanced Sampling and Free-Energy Workshop (Sept 10-14, 2018)
NAMD Developer Workshop in Urbana (June 11-12, 2018)
"Hands-On" Workshop in Pittsburgh (May 21-25, 2018)
"Hands-On" QM/MM Simulation Workshop (April 5-7, 2018)
Older "Hands-On" Workshops
Support
Mailing List Issues for Yahoo.com Addresses
Announcements
NAMD 2.14 Bug Fixes
(Apr 2022)
NAMD 2.14 Release
(Aug 2020)
NAMD 2.14 New Features
NAMD 2.13 Release
(Nov 2018)
NAMD 2.13 New Features
One-click NAMD/VMD in the cloud
QM/MM Interface to MOPAC and ORCA
QwikMD GUI Released in VMD 1.9.3
Previous Announcements
Documentation
Related Codes, Scripts, and Examples
NAMD Wiki (Recent Changes)
Older Documentation
News
NAMD and VMD share in COVID-19 Gordon Bell Special Prize

NAMD reference paper published online

Coronavirus Simulations by U. Delaware Team
Coronavirus Simulations on Frontera Supercomputer
Breakthrough Flu Simulations
Oak Ridge Exascale Readiness Program
Prepping for Next-Generation Cray at NERSC
Supercomputing HIV-1 Replication
How GPUs help in the fight against staph infections
Computational Microscope Gets Subatomic Resolution
Opening New Frontiers in the Battle Against HIV/AIDS
HIV Capsid Interacting with Environment
Assembling Life's Molecular Motor
Older News Items