NAMD, recipient of a 2002 Gordon Bell Award and a 2012 Sidney Fernbach Award, is a parallel molecular dynamics code designed for high-performance simulation of large biomolecular systems. Based on Charm++ parallel objects, NAMD scales to hundreds of cores for typical simulations and beyond 500,000 cores for the largest simulations. NAMD uses the popular molecular graphics program VMD for simulation setup and trajectory analysis, but is also file-compatible with AMBER, CHARMM, and X-PLOR. NAMD is distributed free of charge with source code. You can build NAMD yourself or download binaries for a wide variety of platforms. Our tutorials show you how to use NAMD and VMD for biomolecular modeling.
Spotlight: Anatomy of a dormant killer (August 2015)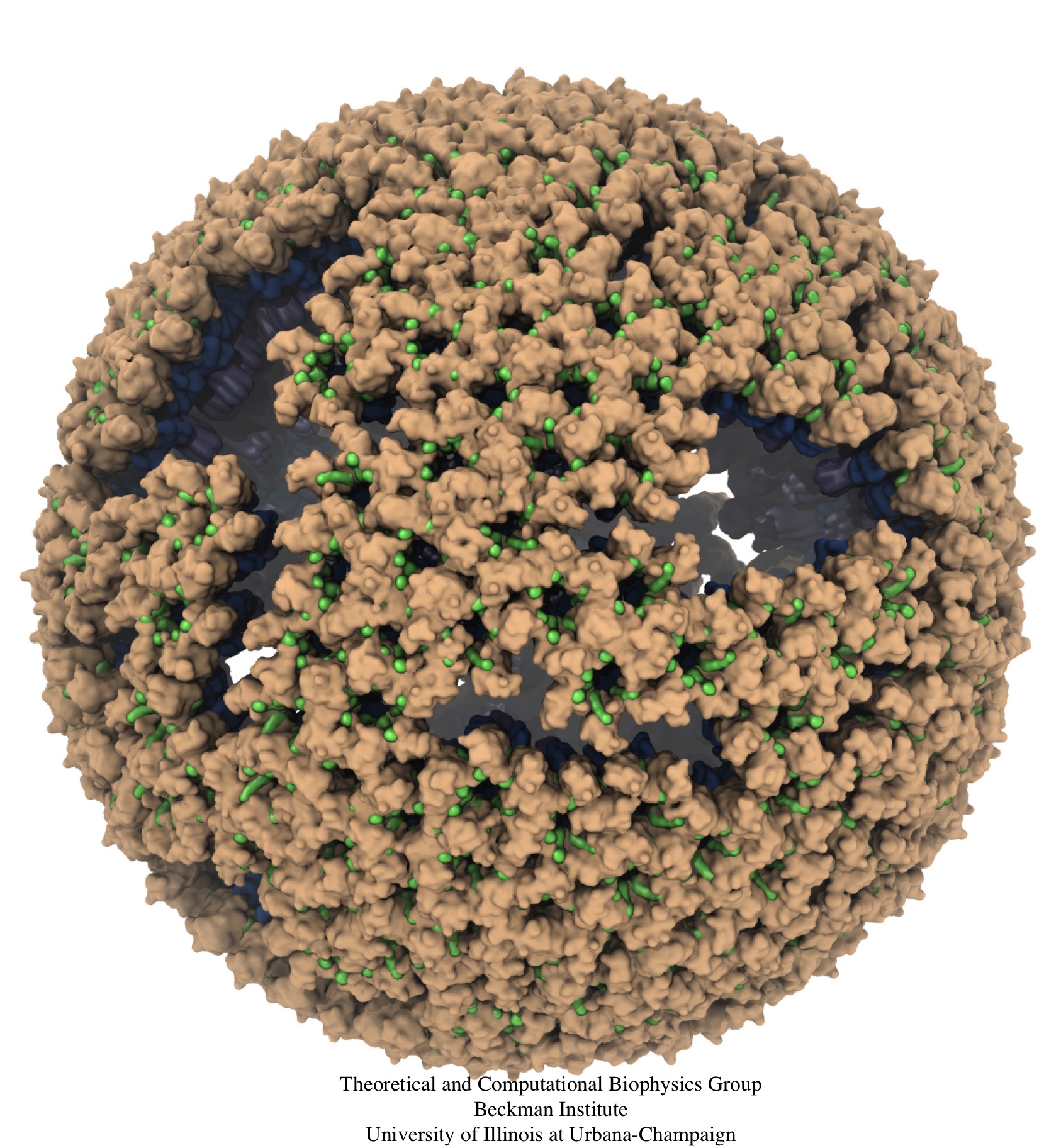 image size: 2.6MB
made with VMD
Retroviruses are parasites that pose a major health threat to humans (for example in case of HIV) and other animals (for example in case of RSV, M-PMV, MLV, and many more viruses). After a retrovirus hijacks a cell, the infected cell produces multiple copies of the virus which are then released into the host's bloodstream. These newly released viruses must mature before they can infect other cells. A strategy for preventing virus spread is therefore, to lock the viral particles in their immature, non-infectious state. However, to render the immature virus an attractive target for structure-based drug development one needs to know its chemical structure. Unfortunately, the complexity and size of the viral particle ― an incomplete hexagonal shell with a size close to 100 nm ― have prevented the experimental determination of the chemical, namely atomic level, structure of the virus. As reported recently, a team of computational and experimental researchers have provided an atomic structure of the immature retroviral lattice for the Rous Sarcoma Virus. The multi-domain RSV model was derived through a combination of state-of-the-art modeling techniques, including, cryo-EM-guided homology modeling, large-scale molecular dynamics simulations using enhanced sampling capabilities available in NAMD, together with experimental measurements such as X-ray crystallography and a wealth of biochemical data. Particularly, the model reveals novel features of the packing and dynamics of the immature capsid protein with implications for the maturation process and confirms the stabilizing roles of the so-called upstream and downstream domains of the immature RSV. More information is available on our retrovirus website, and in a highlight video.
Overview
Why NAMD? (in pictures)
How to Cite NAMD
Features and Capabilities
Performance Benchmarks
Publications and Citations
Credits and Development Team
Availability
Read the License
Download NAMD Binaries (also VMD)
Build from Source Code - Git access now available

Run at NCSA, SDSC, NICS, or Texas
Training
NAMD Developer Workshop in Urbana (June 11-12, 2018)
Apply by May 4.

Charm++ Workshop in Urbana (April 11-12, 2018)

"Hands-On" QM/MM Simulation Workshop (April 5-7, 2018)
Held in Urbana. Apply by March 3.

Enhanced Sampling and Free-Energy Workshop (Sept 25-29, 2017)
"Hands-On" Workshop in Pittsburgh (May 30-June 2, 2017)
NAMD Developer Workshop in Chicago (May 22-23, 2017)
Charm++ Workshop in Urbana (April 17-19, 2017)
"Hands-On" Workshop in Urbana (April 17-21, 2017)
PRACE School on HPC for Life Sciences (April 10-13, 2017)
Older "Hands-On" Workshops
Support
Mailing List Issues for Yahoo.com Addresses
Announcements
NAMD 2.13 New Features
One-click NAMD/VMD in the cloud
QM/MM Interface to MOPAC and ORCA
QwikMD GUI Released in VMD 1.9.3
NAMD 2.12 New Features
NAMD 2.12 Release
(Dec 2016)
2016 User Survey Report
Previous Announcements
Documentation
Related Codes, Scripts, and Examples
NAMD Wiki (Recent Changes)
Older Documentation
News
Opening New Frontiers in the Battle Against HIV/AIDS

HIV Capsid Interacting with Environment

Assembling Life's Molecular Motor

Membrane Channel Made of DNA Origami
NAMD Paper Has 6000 Citations
Antibiotic Resistance Through Efflux Pumps
Membrane Protein Breakthrough
Massive Flu Virus Simulations
Ion Channels in General Anesthesia
How HIV Defeats Cellular Defender
Older News Items