NAMD, recipient of a 2002 Gordon Bell Award and a 2012 Sidney Fernbach Award, is a parallel molecular dynamics code designed for high-performance simulation of large biomolecular systems. Based on Charm++ parallel objects, NAMD scales to hundreds of cores for typical simulations and beyond 500,000 cores for the largest simulations. NAMD uses the popular molecular graphics program VMD for simulation setup and trajectory analysis, but is also file-compatible with AMBER, CHARMM, and X-PLOR. NAMD is distributed free of charge with source code. You can build NAMD yourself or download binaries for a wide variety of platforms. Our tutorials show you how to use NAMD and VMD for biomolecular modeling.
Spotlight: Epigenetic Key (Jan 2012)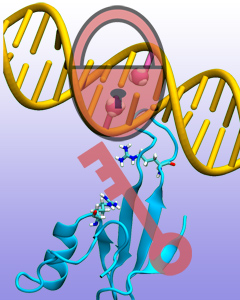 image size: 85.6KB
made with VMD
Genes encoded in DNA sequence give a complete set of instructions for the development of a new organism. However, an organism, like the human body, develops also over a life time adapting to environment and experience, for example to diet and exercise. Recently, researchers found that such factors act through so-called epigenetic mechanisms that alter an organism's development without altering DNA sequence. One such mechanism involves DNA methylation, a chemical modification of one of the four bases of DNA, cytosine, that replaces a hydrogen atom with a methyl group. There are several ways that DNA methylation exerts its biological function, bringing about a long-time adaptation of an organism to its environment, in some cases even across generations. Our previous experimental and computational studies (see Sep 2011 and Feb 2009 highlights) indicated that methylation changes mechanical properties of DNA which can affect gene expression. DNA methylation can also inhibit gene expression by impeding proteins that control the translation of DNA sequence into protein synthesis. One mechanism involves DNA methylation sites recruiting genetic control proteins that inhibit DNA expression through their local presence. In a recent study, computational biologists performed MD simulations with NAMD along with quantum chemistry calculations to determine recognition of methylated DNA by proteins. The simulations revealed how a certain genetic control protein, called methyl-CpG binding domain protein, acts in tandem with methylated DNA like a key and a lock, methylated DNA and protein perfectly matching each other. More details can be found on our methylated DNA website.
Overview
Why NAMD? (in pictures)
How to Cite NAMD
Features and Capabilities
Performance Benchmarks
Publications and Citations
Credits and Development Team
Availability
Read the License
Download NAMD Binaries (also VMD)
Build from Source Code - Git access now available

Run at NCSA, SDSC, NICS, or Texas
Training
NAMD Developer Workshop in Urbana (June 11-12, 2018)
Apply by May 4.

Charm++ Workshop in Urbana (April 11-12, 2018)

"Hands-On" QM/MM Simulation Workshop (April 5-7, 2018)
Held in Urbana. Apply by March 3.

Enhanced Sampling and Free-Energy Workshop (Sept 25-29, 2017)
"Hands-On" Workshop in Pittsburgh (May 30-June 2, 2017)
NAMD Developer Workshop in Chicago (May 22-23, 2017)
Charm++ Workshop in Urbana (April 17-19, 2017)
"Hands-On" Workshop in Urbana (April 17-21, 2017)
PRACE School on HPC for Life Sciences (April 10-13, 2017)
Older "Hands-On" Workshops
Support
Mailing List Issues for Yahoo.com Addresses
Announcements
NAMD 2.13 New Features
One-click NAMD/VMD in the cloud
QM/MM Interface to MOPAC and ORCA
QwikMD GUI Released in VMD 1.9.3
NAMD 2.12 New Features
NAMD 2.12 Release
(Dec 2016)
2016 User Survey Report
Previous Announcements
Documentation
Related Codes, Scripts, and Examples
NAMD Wiki (Recent Changes)
Older Documentation
News
Opening New Frontiers in the Battle Against HIV/AIDS

HIV Capsid Interacting with Environment

Assembling Life's Molecular Motor

Membrane Channel Made of DNA Origami
NAMD Paper Has 6000 Citations
Antibiotic Resistance Through Efflux Pumps
Membrane Protein Breakthrough
Massive Flu Virus Simulations
Ion Channels in General Anesthesia
How HIV Defeats Cellular Defender
Older News Items