Spotlight: Secondary Pores in Potassium Channels (Feb 2012)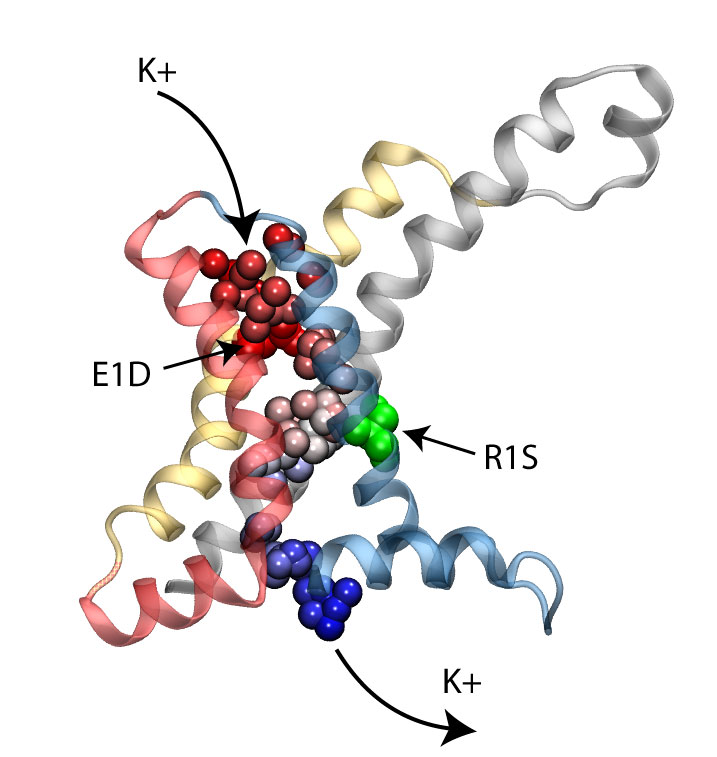 image size: 419.0KB
made with VMD
Voltage-gated ion channels, present in the membrane of excitable cells, control the ionic concentrations of the cellular environment by maintaining a potential difference of -100 mV between inside and outside of the cell membrane. Voltage-sensing occurs through distinct protein modules, known as voltage-sensor domains, four of which surround the main conduction pathway in potassium channels. Mutation of a certain amino acid on the voltage sensor domain turns these protein modules into cation channels, known as omega pores, which allow conduction of ions only when the main pathway is closed. Omega pores closely resemble the long-sought voltage-gated proton channels, which were recently identified to follow the same voltage-sensing mechanism as voltage-gated cation channels. In a recent report, researchers have visualized the twisted permeation pathway of the ions through omega pores using the molecular dynamics program NAMD. The simulations revealed a narrow constriction region lined by negatively charged amino acids, acting as a selectivity filter that prefers passage of positively charged ions through the pore. For more detail, see our potassium channel website .
Overview
Having Problems with NAMD?
Why NAMD? (in pictures)
Molecular Dynamics Flexible Fitting
Steered Molecular Dynamics
Interactive Molecular Dynamics
Features and Capabilities
Performance Benchmarks
Publications and Citations
Credits and Development Team
Availability
Read the License
Download NAMD Binaries (also VMD)
Build from Source Code
Run at NCSA, SDSC, NICS, or Texas
Training
Very Large System Simulation Workshop
(Aug 11-15, 2014) Apply by July 23.

"Hands-On" Workshop in Bremen
(June 16-20, 2014) Apply by May 1.

Charm++ Workshop in Urbana (April 29-30, 2014)

Cryo-EM Modeling Workshop in Urbana (Jan 8-10, 2014)
"Hands-On" Workshop in Urbana (Nov 18-22, 2013)
GPU Programming Workshop in Urbana (Aug 2-4, 2013)
"Hands-On" Workshop in Pittsburgh (June 10-14, 2013)
Charm++ Workshop in Urbana (April 15-16, 2013)
"Hands-On" Workshop in Urbana (Oct 22-26, 2012)
In-Residence Training in Urbana (July 16-27, 2012)
Charm++ Workshop in Urbana (May 7-9, 2012)
Membrane Protein Modeling Workshop in Chicago (May 1-2, 2012)
"Hands-On" Workshop in Urbana (Feb 11-15, 2012)
"Hands-On" Computational Biophysics Workshops
Older Workshops
Support
Mailing List Issues for Yahoo.com Addresses
Announcements
NAMD 2.10 New Features
NAMD 2.9 New Features
NAMD 2.9
(April 2012)
2011 User Survey Report
NAMD 2.8 New Features
NAMD 2.8
(May 2011)
NAMD 2.7 New Features
NAMD 2.7
(Oct 2010)
How to Cite NAMD
Previous Announcements
Documentation
Adaptive Biasing Force Website
Interactive Molecular Dynamics Tutorial
Related Codes, Scripts, and Examples
NAMD Wiki (Recent Changes)
Older Documentation
News
Team learns how membrane transporter moves

Charm++-Related Events at SC13

Extreme Computational Biology at SC13

Editors' Choice: Best use of HPC in life sciences

Rapid parameterization of small molecules

NAMD Paper Has 3000 Citations
Code cracks HIV capsid, opens drug possibilities
HIV-1 Capsid Structure Determined
Poliovirus Simulated on BlueGene/Q
Virus Structure Determined with Blue Waters
Fashioning NAMD: A History of Risk and Reward
Kale, Schulten Receive Fernback Award
Making History on Blue Waters
Hello Siri, Please Start My Experiment Now
Blue Waters Early Science System
Proteins Help DNA Replicate Past Damage
SC11: Scaling to 100 Million Atoms
Copper Folds Parkinson's Plaques
Mechanics of Membrane Proteins
Molecular Mystery of Blood Clotting
Alzheimer's Misfolding Simulated
When Cellular Bones Soften
Getting the Rabbit in the Hat
Insights Into Deafness
Molecular Machines Replicate and Repair DNA
Sound Science
Blueprint for the Affordable Genome
Mechanics of Hearing and Deafness
NAMD Paper Has 1000 Citations
Closing the Gaps
Inside the Swine Flu Virus
GPU Acceleration in Development
NCSA IACAT to Accelerate NAMD
Parkinson's, Alzheimer's Diseases
Knock, Knock, Who's There?
Step Up to the BAR Domain
Older News Items