Spotlight: NAMD 2.8 Cures Hydrophobia (June 2011)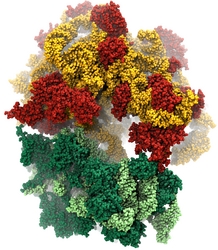 image size: 347.6KB
made with VMD

Water is the essential solvent that shapes protein structure and function, but for researchers using molecular dynamics flexible fitting (MDFF) to fit large biomolecular models to data from cryo-electron microscopy, such as fitting the classical ribosome into the ratcheted map, it was a mixed blessing. Since the network of hydrogen bonds that gives water its unique properties must rearrange as the solute moves, water molecules not only increase the size of the simulation but slow the fitting process. Leaving water out completely was a common practice, relying on the MDFF fitting potential to prevent the dehydrated protein from shriveling. The 2.8 release of NAMD provides a better option: a new implementation of the generalized Born implicit solvent model that scales to thousands of cores for large biomolecular aggregates thanks to NAMD's unique parallel structure and measurement-based load balancing system. By eliminating explicit water molecules from the simulation, an implicit solvent model helps shape protein structure while adapting immediately to new conformations. With this best-of-both-worlds option now available in NAMD, biomedical researchers using MDFF need fear water no longer.
Overview
Having Problems with NAMD?
Why NAMD? (in pictures)
Molecular Dynamics Flexible Fitting
Steered Molecular Dynamics
Interactive Molecular Dynamics
Features and Capabilities
Performance Benchmarks
Publications and Citations
Credits and Development Team
Availability
Read the License
Download NAMD Binaries (also VMD)
Build from Source Code
Run at NCSA, SDSC, NICS, or Texas
Training
"Hands-On" Workshop in Atlanta (Nov 3-7, 2014) Apply by October 19.

"Hands-On" Workshop in Bremen (June 16-20, 2014)
Charm++ Workshop in Urbana (April 29-30, 2014)
Cryo-EM Modeling Workshop in Urbana (Jan 8-10, 2014)
"Hands-On" Workshop in Urbana (Nov 18-22, 2013)
GPU Programming Workshop in Urbana (Aug 2-4, 2013)
"Hands-On" Workshop in Pittsburgh (June 10-14, 2013)
Charm++ Workshop in Urbana (April 15-16, 2013)
"Hands-On" Workshop in Urbana (Oct 22-26, 2012)
In-Residence Training in Urbana (July 16-27, 2012)
Charm++ Workshop in Urbana (May 7-9, 2012)
Membrane Protein Modeling Workshop in Chicago (May 1-2, 2012)
"Hands-On" Workshop in Urbana (Feb 11-15, 2012)
"Hands-On" Computational Biophysics Workshops
Older Workshops
Support
Mailing List Issues for Yahoo.com Addresses
Announcements
NAMD 2.10 New Features
NAMD 2.10b1
(Aug 2014)
NAMD 2.9 New Features
NAMD 2.9
(April 2012)
2011 User Survey Report
NAMD 2.8 New Features
NAMD 2.8
(May 2011)
NAMD 2.7 New Features
NAMD 2.7
(Oct 2010)
How to Cite NAMD
Previous Announcements
Documentation
Adaptive Biasing Force Website
Interactive Molecular Dynamics Tutorial
Related Codes, Scripts, and Examples
NAMD Wiki (Recent Changes)
Older Documentation
News
Big Ten Network "Computing a Virus" Feature

NAMD Paper Has 4000 Citations

Bolstering Extreme Scale Computational Biology

CUDA Achievment Award for Fighting HIV
Team learns how membrane transporter moves
Charm++-Related Events at SC13
Extreme Computational Biology at SC13
Editors' Choice: Best use of HPC in life sciences
Rapid parameterization of small molecules
NAMD Paper Has 3000 Citations
Code cracks HIV capsid, opens drug possibilities
HIV-1 Capsid Structure Determined
Poliovirus Simulated on BlueGene/Q
Virus Structure Determined with Blue Waters
Fashioning NAMD: A History of Risk and Reward
Kale, Schulten Receive Fernback Award
Making History on Blue Waters
Hello Siri, Please Start My Experiment Now
Blue Waters Early Science System
Proteins Help DNA Replicate Past Damage
SC11: Scaling to 100 Million Atoms
Copper Folds Parkinson's Plaques
Mechanics of Membrane Proteins
Molecular Mystery of Blood Clotting
Alzheimer's Misfolding Simulated
When Cellular Bones Soften
Getting the Rabbit in the Hat
Insights Into Deafness
Molecular Machines Replicate and Repair DNA
Sound Science
Blueprint for the Affordable Genome
Mechanics of Hearing and Deafness
NAMD Paper Has 1000 Citations
Closing the Gaps
Inside the Swine Flu Virus
GPU Acceleration in Development
NCSA IACAT to Accelerate NAMD
Parkinson's, Alzheimer's Diseases
Knock, Knock, Who's There?
Step Up to the BAR Domain
Older News Items