Molecular Dynamics Flexible Fitting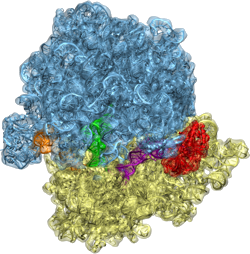 The molecular dynamics flexible fitting (MDFF) method can be used to flexibly fit atomic structures into density maps. The method consists of adding external forces proportional to the gradient of the density map into a molecular dynamics (MD) simulation of the atomic structure.
Use the menu above to navigate the MDFF website. For examples of MDFF applications, visit the websites on Mechanisms of Protein Synthesis by the Ribosome, Dynamics of Protein Translocation, Molecular Dynamics of Viruses, and Intrinsic Curvature Properties of Photosynthetic Proteins in Chromatophore.