Breaking News
| | |
| --- | --- |
| NAMD and VMD are part of the team winning the 2020 ACM Gordon Bell Special Prize for high performance computing-based COVID-19 research, for the paper AI-Driven Multiscale Simulations Illuminate Mechanisms of SARS-CoV-2 Spike Dynamics, presented at Supercomputing 2020, Nov 18, 2020. | |
---
---
NAMD is able to achieve 9x throughput with version 3.0alpha running on NVIDIA A100 GPUs. Details available on the NVIDIA developer blog.
---
The new NAMD reference paper has been published online. The paper provides an overview of the many features available in NAMD, its scalability on CPU and GPU platforms on system sizes of up to a billion atoms, and the recent performance enhancements for GPU accelerators.
Spotlight: VMD 1.9.1 Adds Fast Surface Display (May 2012)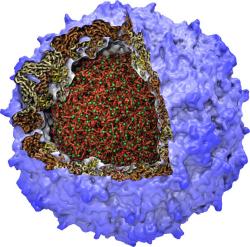 image size: 138.6KB
made with VMD
The surfaces of biomolecules are alive with activity, with surface shape and electrostatic interactions leading them to interact with each other. The recent VMD 1.9.1 release includes a new "QuickSurf" graphical representation for molecular surfaces that allows the dynamics of large biomolecules to be animated interactively for the first time. VMD 1.9.1 even enables surface representations for many-million atom complexes. QuickSurf uses fast algorithms, GPU computing techniques, and multi-core CPUs to achieve astonishing performance. The algorithms behind QuickSurf have been recently reported. VMD 1.9.1 adds many other new features including a new Force Field Toolkit (FFTK) plugin that assists researchers in development of CHARMM force field parameters, a new NetworkView plugin for mapping and displaying networks on 3-D molecular structures, an updated ViewChangeRender plugin for making sophisticated demonstrations and movies, and a new VMD remote control tool that allows VMD sessions to be controlled from wireless touch sensitive phones and tablet devices. For more on these and other new features of VMD see the VMD 1.9.1 release page.
Overview
Why NAMD? (in pictures)
How to Cite NAMD
Features and Capabilities
Performance Benchmarks
Publications and Citations
Credits and Development Team
Availability
Read the License
Download NAMD Binaries (also VMD)
Build from Source Code - Git access now available
Run at NCSA, SDSC, NICS, or Texas
Training
NAMD Developer Workshop in Urbana (August 19-20, 2019)
PRACE School on HPC for Life Sciences (June 10-13, 2019)
"Hands-On" Workshop in Pittsburgh (May 13-17, 2019)
Charm++ Workshop in Urbana (May 1-2, 2019)
Enhanced Sampling and Free-Energy Workshop (Sept 10-14, 2018)
NAMD Developer Workshop in Urbana (June 11-12, 2018)
"Hands-On" Workshop in Pittsburgh (May 21-25, 2018)
"Hands-On" QM/MM Simulation Workshop (April 5-7, 2018)
Older "Hands-On" Workshops
Support
Mailing List Issues for Yahoo.com Addresses
Announcements
NAMD 2.14 Release
(Aug 2020)
NAMD 2.14 New Features
NAMD 2.13 Release
(Nov 2018)
NAMD 2.13 New Features
One-click NAMD/VMD in the cloud
QM/MM Interface to MOPAC and ORCA
QwikMD GUI Released in VMD 1.9.3
Previous Announcements
Documentation
Related Codes, Scripts, and Examples
NAMD Wiki (Recent Changes)
Older Documentation
News
NAMD and VMD share in COVID-19 Gordon Bell Special Prize

NAMD reference paper published online

Coronavirus Simulations by U. Delaware Team
Coronavirus Simulations on Frontera Supercomputer
Breakthrough Flu Simulations
Oak Ridge Exascale Readiness Program
Prepping for Next-Generation Cray at NERSC
Supercomputing HIV-1 Replication
How GPUs help in the fight against staph infections
Computational Microscope Gets Subatomic Resolution
Opening New Frontiers in the Battle Against HIV/AIDS
HIV Capsid Interacting with Environment
Assembling Life's Molecular Motor
Older News Items