Mechanosensing
Cells explore their environment by sensing and responding to mechanical forces. Many fundamental cellular processes, such as cell migration, differentiation, and homeostasis, take advantage of this sensing mechanism. At molecular level mechanosensing is mainly driven by mechanically active proteins. These proteins are able to sense and respond to forces by, e.g., undergoing conformational changes, exposing cryptic binding sites, or even by becoming more tightly bound to one another. In humans, defective responses to forces are known to cause a plethora of pathological conditions, including cardiac failure, pulmonary injury and are also linked to cancer. Microorganisms also take advantage of mechano-active proteins and proteins complexes. Employing single-molecule force spectroscopy with an atomic force microscope (AFM) and steered molecular dynamics (SMD) simulations we have investigated force propagation pathways through a mechanically active protein complexes.
Spotlight: How Cells "Feel" Mechanical Tension and Osmotic Stress (May 2001)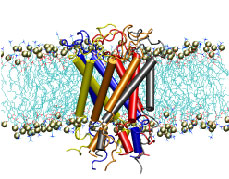 image size: 247.9KB
made with VMD
"How do you feel?" Biologists now have an answer that may surprise you. Our sense of touch relies upon the fact that cells in our fingertips can sense the pressure from a tabletop and transmit a signal to the brain. But until recently, the molecular mechanism for turning the stretching of a cell membrane into a cellular signal was unknown. An important step in understanding this process was the discovery of a protein known as a the mechanosensitive channel of large conductance, or MscL. Though this protein has been studied primarily in bacteria, homologues exist in all major kingdoms of life. Researchers in the Theoretical Biophysics Group have used molecular dynamics simulations to study, at the atomic level, how MscL opens in response to pressure changes. Models of MscL will give us new insight, not only into how we feel, but also how our hearts beat and how we keep our balance. Feel better now? ( more, publication )
Related Publications
Related Research
Investigators
Ultrastable cellulosome-adhesion complex tightens under load. Constantin Schoeler, Klara H. Malinowska, Rafael C. Bernardi, Lukas F. Milles, Markus A. Jobst, Ellis Durner, Wolfgang Ott, Daniel B. Fried, Edward A. Bayer, Klaus Schulten, Hermann E. Gaub, and Michael A. Nash. Nature Communications, 5:5635, 2014.
Mapping mechanical force propagation through biomolecular complexes. Constantin Schoeler, Rafael C. Bernardi, Klara H. Malinowska, Ellis Durner, Wolfgang Ott, Edward A. Bayer, Klaus Schulten, Michael A. Nash, and Hermann E. Gaub. Nano Letters, 15:7370-7376, 2015.