Highlights of our Work
image size: 393.0KB
made with VMD
The cellular membranes in humans, and in any other living cell, are composed of greasy molecules termed "lipids". While originally deemed as a simple medium, we now know that lipids are significant functional regulators for a variety of membrane proteins, including ligand-gated ion channels. As the name suggests, these channels are regulated by binding of specific chemical messengers, e.g., neurotransmitters in the brain, that induce opening of a pore for ions to travel from one side of the membrane to the other.
A recent collaborative research
between the Center and the group of
Claudio Grosman
focused on how lipids control the coupling between ligand binding and pore opening. Determining atomic-resolution structures of a ligand-gated ion channel complemented by simulations and free energy calculations performed with
NAMD
, we show that the response of the channel to ligand binding is completely eliminated in the absence of specific lipids required for activity. Our work highlights how specific protein-lipid interactions are involved in modulating protein functions, and paves the way for further examination of protein activities in complex membrane environments.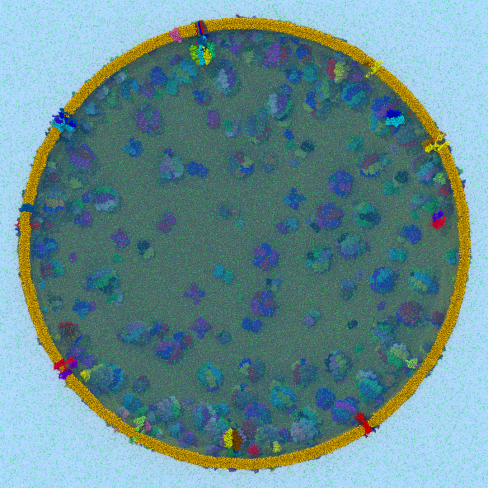 Disease due to a viral or bacterial infection continues to pose a major health concern, particularly today in the midst of the COVID-19 pandemic. Fighting such health threats requires the development of new antiviral and antibiotic drugs, a process that is increasingly guided by molecular modeling and computer simulation. The recently released
NAMD 2.14
is now especially well suited to handle very large molecular systems for cell-scale simulations and to take advantage of massively parallel, GPU-accelerated architectures like the
Summit supercomputer
at Oak Ridge National Laboratory, currently ranked as the fastest in the world. Recent Summit simulations of a one-billion-atom protocell system, assembled to emulate a minimal but realistic cellular envelope and shown here in a cross-sectional view, push the limits of constructing and modeling atomic-resolution biological structures, paving the way for improved methodologies and tools that will enable the simulation of large viral and bacterial complexes.
For too long, cellular membranes were considered to merely provide a defense wall for the cell. However, we now know that they constitute one of the most fundamental compartments for the function of a living cell. Key processes such as selective transport and exchange of information between the cell and its environment are mediated by membrane proteins, key players that also form a major site of engagement both for pathogenic species such as viruses to enter the cell and for many drugs to bind to and to exert their beneficial effects. Fascinatingly, we are learning that lipids (fat molecules constituting the cellular membrane) are not just sitting there; rather, they can specifically regulate the function of membrane proteins through diverse mechanisms. But it is very hard to "see" how they accomplish this task. Using microscopic simulations with
NAMD
and in close concert with advanced experimental techniques, the Center has investigated a broad range of such functional lipid-protein interactions in several recent studies [
1
,
2
,
3
,
4
,
5
,
6
,
7
], not only identifying specific binding sites for signaling lipids (e. g., cholesterol, or charged lipids such as PIP2 and PIP3) on membrane proteins (e. g., transporters, channels, receptors) with key physiological roles, but also providing important information on how the function of these proteins can be regulated by lipids. These studies have greatly enriched our knowledge on the regulatory roles of lipids in membrane biology and protein function.