Research Projects - Quantum Biology
Many important biological processes taking place in cells are driven and controlled by events that involve electronic degrees of freedom and, therefore, require a quantum mechanical description. An important example are enzymatically catalyzed, cellular biochemical reactions. Here, bond breaking and bond formation events are intimately tied to changes in the electronic degrees of freedom. Key events during photosynthesis in plants and energy metabolism in eucaryotes also warrant a quantum mechanical description - from the absorption of light in the form of photons by the photosynthetic apparatus to electron transfer processes sustaining the electrochemical membrane potential. Because of the importance of sensing light to both plants (for regulating vital functions) and animals (for vision), the interaction between light and biological photoreceptors is widespread in nature, and also requires a quantum mechanical description. A prime example is the protein rhodopsin which is present in the retina of the human eye and plays a key role in vision. Our computational tool are combined quantum mechanical/molecular (QM/MM) simulations, that allow to combine an electronic level description of the active region with a classical model of the environment provided by the remainder of the biomolecular system and solvent. This allows us to study the electronic level processes underlying these systems in their natural cellular environment.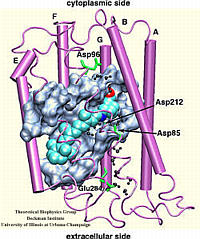 The all-trans retinal protonated Schiff base (RSPB) is the chromophore of bacteriorhodopsin (bR), a transmembrane protein that acts as a light-driven proton pump in Halobacterium salinarium, converting light energy to a proton gradient. Upon absorption of light the chromophore undergoes a photoisomerization process (all-trans -> 13-cis) that eventually provides the driving force for the translocation of protons. This elementary photoisomerization process proceeds on multiple coupled potential energy surfaces and we have modeled it using a formally exact quantum-mechanical procedure: the full multiple spawning method. Currently, we are studying the first excited electronic state of the chromophore using an isolated retinal analog model and ab initio CASSCF methods. The characterization of the first excited state (minima and conical intersections associated with isomerization around different double bonds) will enable us to extend and improve the aforementioned quantum-mechanical studies of the photoreaction dynamics in the protein.