Research Projects - Quantum Biology
Many important biological processes taking place in cells are driven and controlled by events that involve electronic degrees of freedom and, therefore, require a quantum mechanical description. An important example are enzymatically catalyzed, cellular biochemical reactions. Here, bond breaking and bond formation events are intimately tied to changes in the electronic degrees of freedom. Key events during photosynthesis in plants and energy metabolism in eucaryotes also warrant a quantum mechanical description - from the absorption of light in the form of photons by the photosynthetic apparatus to electron transfer processes sustaining the electrochemical membrane potential. Because of the importance of sensing light to both plants (for regulating vital functions) and animals (for vision), the interaction between light and biological photoreceptors is widespread in nature, and also requires a quantum mechanical description. A prime example is the protein rhodopsin which is present in the retina of the human eye and plays a key role in vision. Our computational tool are combined quantum mechanical/molecular (QM/MM) simulations, that allow to combine an electronic level description of the active region with a classical model of the environment provided by the remainder of the biomolecular system and solvent. This allows us to study the electronic level processes underlying these systems in their natural cellular environment.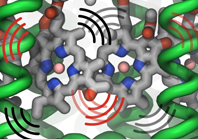 image size: 231.6KB
made with VMD
Excitation transfer between pigment molecules, such as bacteriochorophylls (BChls), and between pigment-protein light harvesting complexes, such as light harvesting complex 2 (LH2), has been investigated for many years using many different theoretical descriptions. Typically these descriptions include a priori assumptions about the dynamics of the system. Such assumptions are often made due to incomplete knowledge to make the system numerically tractable so that further insight can be gained. In the theoretical models of excitation transfer, it is often assumed that one parameter is much larger than another, allowing the system to be treated perturbatively. These assumptions, however, should be physically reasonable and should be tested if possible.