Projection Facility
The TCB's projection facility was established in the summer of 1993 to create an interactive visual environment for computational molecular modelling, specifically for our software package VMD. While it has gone through many upgrades through the years, its general setup has remained fairly unchanged - a projected computer screen serves as a window to three dimensional images which are easily viewed by groups of people. This offers an ideal setting for collaborative endeavors and allows several researchers to discuss, visualize, and modify a given molecular system and present results in real time.
Configuration
System Specifications
Projection Facility

Da-Lite Tension Advanced Electrol 3D 160" by 90" silver screen
10 person conference table
Mobile presentation podium
Stereo Projection System

30x Passive-Stereo Eyeware
Supermicro workstation

nVidia Quadro FX 5800 Graphics
48GB RAM
2x Intel Xeon W5550 2.6GHz Quad Core processors
High Resolution Projection System

Custon built workstation

nVidia QuadroPlex 7000 Graphics
64GB RAM
Intel Core i7-3960X Six Core processor
Projector
A Supermicro workstation featuring nVidia Quadro video boards with eight 2.6GHz processors and 48GB of memory drives our passive-stereo facility. This workstation is currently our most powerful to date allowing us to simulate and analyze systems significantly larger and more complex than any of our existing machines have in the past. This workstation offers dual 24" displays for the console and to mirror what is being projected.
3D Stereo
Additional hardware is necessary to take advantage of the active stereo capabilities of the projector and computer. Our facility utilizes linear polarized filters and passive glasses.
Screen
A high-quality silvered screen is required to properly view stereo images. This requirement is fulfilled by a Da-Lite Tension Advanced Electrol 3D 160" by 90" silver screen , which offers high-contrast and an excellent image size. The screen can be retracted into the ceiling when not in use.
Input Devices
In addition to the standard keyboard and mouse inputs, our 3D facility takes advantage of a pair of 3D input devices for cutting-edge control. The simpler device is a SpaceBall input device, which offers direct 3D control of our software. For more complex operations we use a SensAble PHANTOM haptic input device, which offers precise 3D positioning and force-feedback with our simulations.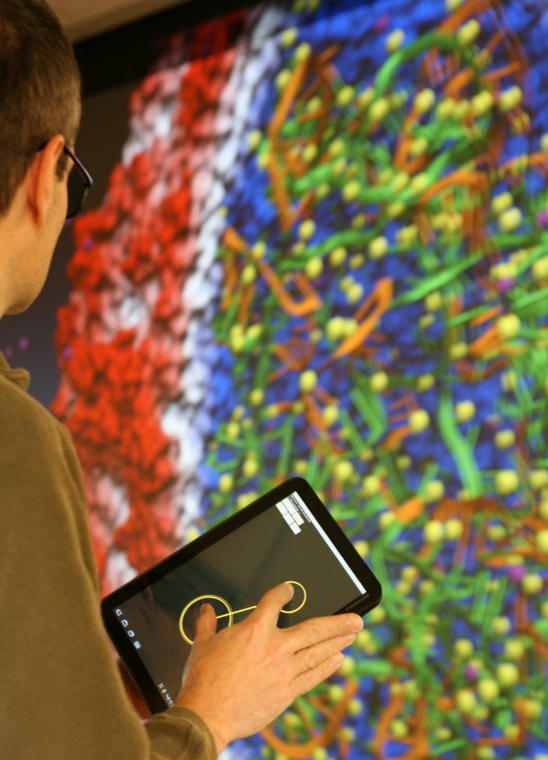 History
February 2012 - An additional conference projector is added to the projection facility to reduce the load on the 3D projection and high resolution projection systems during meetings and conferences.
February 2012 - The projection facility is outfitted with a mobile lectern to enable lecture style presentations. The presenter is able to face the group of people and interactively control the presentation from the podium.
February 2012 - A faster custom built workstation with faster nVidia QuadroPlex 7000 graphics and more memory is built to replace the workstation driving the high resolution projector.
December 2010 - A JVC 4K high resolution (4096 x 2400) projector is installed in the new projection facility enabling very high resolution visualization. A new custom built workstation outfitted with four nVidia GTX 480 graphics boards is used to drive the new projector.
Jan - 2010 - A new and larger projection facility is installed with the capability of housing larger groups of people. A higher resolution (1920 x 1200) passive stereo projection system is built and Uji a Supermicro workstation with nVidia Quadro FX 5800 graphics is commissioned to drive the new projection system.
June - 2008 - bristol is retired and titan, a Sun Ultra 40 with, nVidia Quadro FX 5800 graphics becomes the primary machine running the 3D facility.
Aug 2005 - bristol is moved away, and asuncion becomes the primary machine running the 3D facility.
Mar 2005 - Mirage 2000 projector arrives and is installed, replacing the Electrohome 8500LC.
Oct 2004 - LP530G projector is installed in the 3D facility, to reduce load on the primary projector.
Apr 2004 - asuncion, the SunFire V880z, arrives and is installed for local testing.
Summer 2002 - bristol becomes the primary machine running the 3D facility.
Apr 2002 - bristol and cardiff, two SunBlade 2000s w/XVR1000 graphics, are purchased and installed, and begin testing to run the 3D facility.
July 2000 - cancun becomes the primary machine running the 3D facility.
Summer 2000 - the original Electrohome projector is replaced with a newer Electrohome 8500LC Ultra w/fast P43 green phosphor, with a more permanent ceiling mount. cancun, a Sun Ultra 80 w/Expert3D graphics, is purchased and installed.
Spring 2000 - the projection screen is upgraded to a Stewart Videomatte 2000 Electriscreen, with hard-mounted CrystalEyes 3D Emitters on the ceiling.
Winter 1998 - PHANTOM Haptic device is purchased and installed.
Summer 1997 - titan, an SGI Onyx2, is installed to run the viz facility. The primary projector is an Electrohome 8500LC Ultra w/fast P43 green phosphors.
Summer 1993 - initial facility development and installation.