Lung Collectins
Overview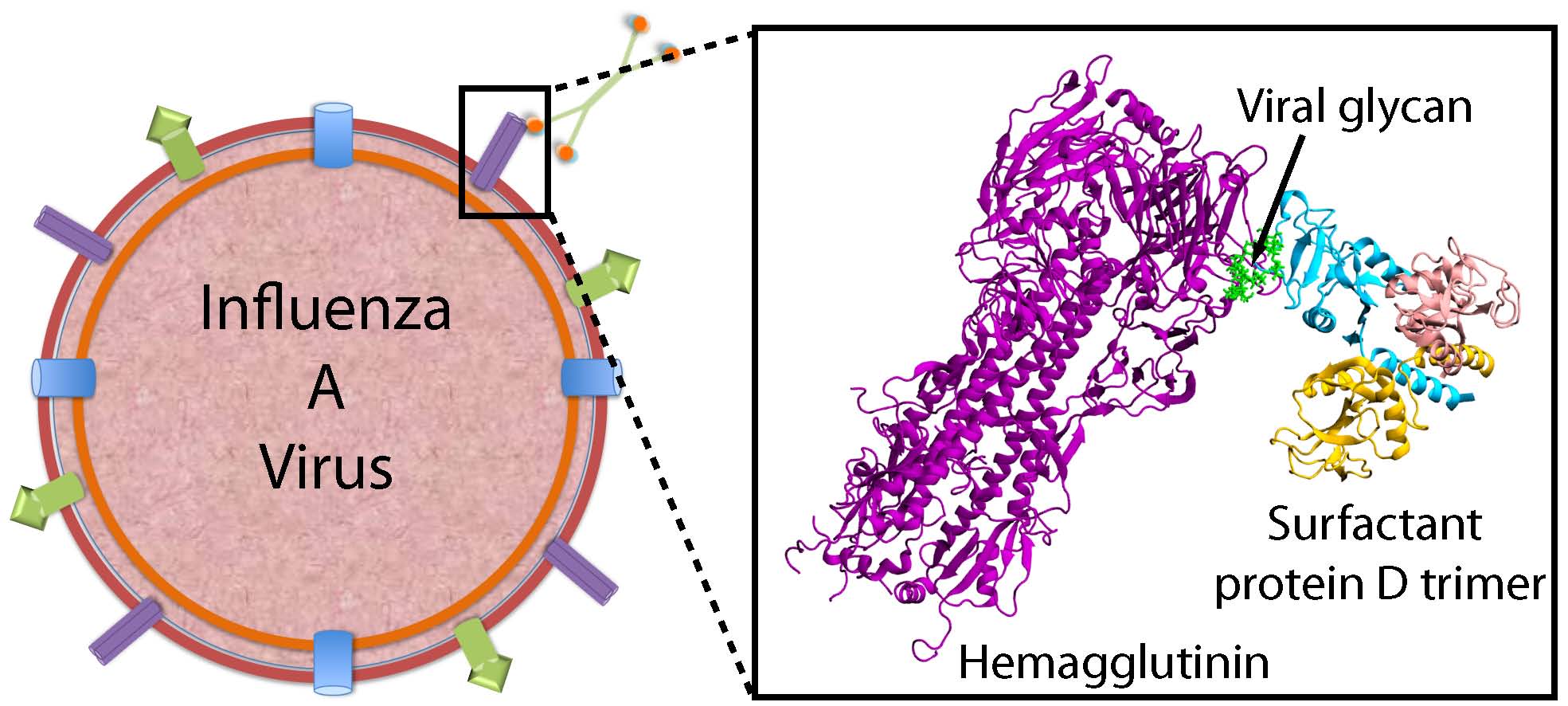 Lung Collectins Defense Against Influenza A Virus
Influenza is a highly contagious respiratory disease, estimated to cause 250,000 to 500,000 deaths worldwide each year. Before Influenza A virus (IAV) infection of the host is established, the virus encounters various lines of innate defenses, including an important class of mammalian innate immune proteins, namely proteins called collectins. Lung collectins are involved in the early pulmonary response to limit infection and spread of IAVs and other pathogens in the airways. By now, it is well established that among these collectins, surfactant protein D (SP-D) appears particularly important in the context of IAV. SP-D-mediated protection is primarily established by reducing the number of infectious particles via aggregation of viral particles, which prevents attachment of virus to the host respiratory epithelium and induces phagocytic responses resulting in enhanced viral clearance.
Experimental observations
Ribbon diagram of the pig SP-D trimer.
Crystal Structure of pig SP-D trimer
SP-D is mainly secreted as a dodecameric four-armed structure in which each arm represents a trimeric oligomer, the basic structural unit common for the collectin family members. Within each subunit, four major domains can be distinguished as follows: an N-terminal cross-linking domain; a collagen-like triple helical domain; a neck region, and a carbohydrate recognition domain (CRD). The neck region, a short stretch of 33 amino acids, mediates formation of a triply wound alpha-helical coiled-coil domain. The three globular C-type lectin domains are clustered at the C terminus of each subunit to facilitate multivalent high affinity interactions between the ligand-binding sites of SP-D with patterns of glycoconjugates expressed on the surface of pathogens. Prior in vitro and in vivo studies have shown that the trimeric arrangement and carbohydrate-binding characteristics of the CRD are important structural requirements that confer the strong antiviral activity of SP-D against IAV.
The pig SP-D consists of a core with seven beta-sheet regions flanked by two alpha-helices. Two loops on the protein, termed (as in mannan-binding lectin) as the short loop (residues 297-303 in pSP-D) and the long loop (residues 307-331 in pSP-D), located in the CRD distal to the trimer axis, are involved in binding the two calcium ions observed in the structure. In the left image, one monomer is highlighted in blue, and the residues of the insertion at residue 326 is highlighted in red. Calcium ions are shown as orange or gray spheres. The location of the N-glycosylation site is indicated by an arrow.
Lectin site of pig SP-D and human SP-D

Lectin site of pig SP-D and human SP-D.
The lectin calcium site in RpNCRD-dNG is formed from residues on the long loop as well as residues from a nearby beta-sheet region (residues 339-343) (left figure). The calcium ion is coordinated by six protein oxygen atoms from five amino acids and two oxygen atoms from the ligands, creating a square antiprism. Mannose binds via the O3 and O4 oxygen atoms that form the canonical vicinal equatorial diol recognized by this type of lectin. Two of the amino acids, Glu-321 and Asn-323, are from a consensus sequence EPN found in most C-type lectins that favor binding of mannose. Two other amino acids, Asn-341 and Asp-342, are part of a consensus WND sequence found in C-type lectins. The other amino acid is Glu-329, which coordinates this calcium through its side chain.
A second nonlectin calcium is bound in the site between the two loops and is thought to play a structural role. This calcium is coordinated by five protein oxygen atoms from four protein side chains and one backbone oxygen atom, making a square pyramidal coordination sphere. Two of these side chains are from the short loop Asp-297 and Glu-301, the latter of which makes a bidentate interaction with calcium through its side chain. Other coordination interactions are formed with residues from the long loop, i.e. the side chains of Asn-324 and Asn-330 and the backbone oxygen atom of Glu-329.
Computational problem
Accumulating evidence suggests that evasion of collectin recognition is a factor in the severity of pandemic IAV strains. This collaboration will exploit innate, collectin-mediated immune responses against IAV to develop new therapeutic approaches that target new or re-emerging strains of influenza. Our focus is to determine the molecular basis of recognition of inhaled pathogens by surfactant proteins A and D. The following are major questions that need to be addressed. (1) What are the SP-D-HA binding modes and how do the composition and location of HA glycans affect this binding? (2) How do gain-of-function collectin mutations affect IAV binding and neutralization? (3) What are the binding interactions between HA and sialylated collectins like SP-A?
Porcine SP-D (pSP-D) has a SER-GLY-ALA tripeptide insertion (highlighted in red) in the loop region (glycan binding region) compared with human SP-D (hSP-D).
Shown is the time evolution of the RMSD of the loop region of pig and human SP-D (green) and their SP-D/Man8 complex (pink) obtained from molecular dynamics simulations.
We have shown that porcine SP-D exhibits stronger anti-IAV activity than human SP-D, and our studies investigate the reasons for this enhancement. Crystallographic analysis of the trimeric neck-CRD fragment derived from pSP-D complexed with D-mannose shows that compared with the corresponding fragment from hSP-D, a tripeptide insertion in pSP-D slightly alters local conformation at the lectin site. Molecular dynamics simulations show that the loop region (residues 307-331) containing the insertion is flexible in the unliganded form, but the conformation is stabilized upon sugar binding. The simulations further suggest that the loop region could facilitate stronger binding to viral glycans through contact with distal portions of the branched mannoside. The data suggest that differences between the loop region of pSP-D and that of hSP-D are responsible for enhanced IAV antiviral properties of unglycosylated pSP-D relative to hSP-D. The potential relevance of these findings to subclinical IAV infection and viral reassortment in pigs is discussed.
pspd_highlightloop.mpg (3.1MB): The fluctuation of the long loop of pig SP-D (green) in a 65-ns simulation.
pspd_man_highlightloop.mpg (3.9MB): The fluctuation of the long loop of the pig SP-D/Man8 complex (magenta) in a 65-ns simulation. Octamannose is shown in transparent representation.
Unique sugar-binding site mediates the distinct anti-influenza activity of pig surfactant protein D. Martin van Eijk, Michael J. Rynkiewicz, Mitchell R. White, Kevan L. Hartshorn, Xueqing Zou, Klaus Schulten, Dong Luo, Erika C. Crouch, Tanya M. Cafarella, James F. Head, Henk P. Haagsman, and Barbara A. Seaton. Journal of Biological Chemistry, 287:26666-26677, 2012
Investigators
Page created and maintained by Xueqing Zou.