Research Projects - Other
The nature of modern science is that it is ever-changing, energetically crossing boundaries heretofore defined by traditional areas of inquiry. Research at the Theoretical and Computational Biophysics group reflects this dynamic, with studies employing theoretical perspectives and methodological approaches or addressing topics that don't fall easily into one of the above categories. Included in this broad category are studies of a four-way DNA junction, the nuclear pore complex, gas transport in hydrogenase that may provide a source of renewable fuel, and other topics.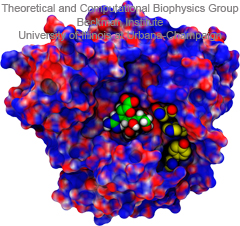 image size: 77.5KB
made with VMD
Influenza viral infections affect all populations of the world and represent a leading cause of mortality in elderly and immunecompromised populations. The 2009 A/H1N1 pandemic, now believed to have caused as many as ten times more deaths than originally estimated, clearly illustrated how drug resistant mutants can impact a population before a vaccine is available. The development of potent and effective antiviral drugs, therefore, is of paramount importance for stemming future epidemics. The influenza virus capsid contains two glycoproteins, namely hemagglutinin and neuraminidase. Neuraminidase in particular binds with sialic acid on respiratory tract epithelial cells, allowing attachment of the virus and the subsequent release of viral replicants. This sialic acid binding site is a viable target for neuraminidase inhibitors such as Tamiflu (oseltamivir) and Relenza (zanamivir); however, the emergence of drug resistant mutations (H274Y, N294S, and Y252H) to the A/H1N1 strain as well as the more common H5N1 strain has significantly limited the effectiveness of Tamiflu in particular, inducing a drug resistance anywhere from 81- to 256-fold over the wild type strains.