Research Projects - Other
The nature of modern science is that it is ever-changing, energetically crossing boundaries heretofore defined by traditional areas of inquiry. Research at the Theoretical and Computational Biophysics group reflects this dynamic, with studies employing theoretical perspectives and methodological approaches or addressing topics that don't fall easily into one of the above categories. Included in this broad category are studies of a four-way DNA junction, the nuclear pore complex, gas transport in hydrogenase that may provide a source of renewable fuel, and other topics.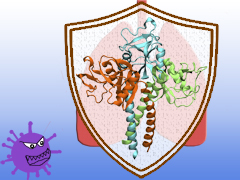 image size: 76.8KB
made with VMD
Influenza is a highly contagious respiratory disease, estimated to cause 250,000 to 500,000 deaths worldwide each year. Before Influenza A virus (IAV) infection of the host is established, the virus encounters various lines of innate defenses, including an important class of mammalian innate immune proteins, namely proteins called collectins. Lung collectins are involved in the early pulmonary response to limit infection and spread of IAVs and other pathogens in the airways. By now, it is well established that among these collectins, surfactant protein D (SP-D) appears particularly important in the context of IAV. SP-D-mediated protection is primarily established by reducing the number of infectious particles via aggregation of viral particles, which prevents attachment of virus to the host respiratory epithelium and induces phagocytic responses resulting in enhanced viral clearance.