ComputeNonbondedPair Class Reference
#include <ComputeNonbondedPair.h>
Inheritance diagram for ComputeNonbondedPair: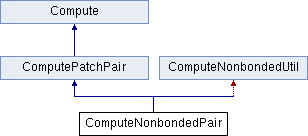 List of all members.



Public Member Functions

ComputeNonbondedPair (ComputeID c, PatchID pid[], int trans[], ComputeNonbondedWorkArrays *_workArrays, int minPartition=0, int maxPartition=1, int numPartitions=1)
~ComputeNonbondedPair ()



Public Attributes

nonbonded
params
GBISParamStruct
gbisParams



Protected Member Functions

virtual void
initialize ()
virtual int
noWork ()
virtual void
doForce (CompAtom *p[2], CompAtomExt *pExt[2], Results *r[2])



Protected Attributes

Box< Patch, CompAtom > *
avgPositionBox [2]
Box< Patch, CompAtom > *
velocityBox [2]
Real *
intRad [2]
Box< Patch, Real > *
intRadBox [2]
Box< Patch, GBReal > *
psiSumBox [2]
Box< Patch, Real > *
bornRadBox [2]
Box< Patch, GBReal > *
dEdaSumBox [2]
Box< Patch, Real > *
dHdrPrefixBox [2]
Pairlists
gbisStepPairlists [numGBISPairlists]
BigReal
reductionData [reductionDataSize]
SubmitReduction *
reduction
SubmitReduction *
pressureProfileReduction
BigReal *
pressureProfileData
ComputeNonbondedWorkArrays
*const
workArrays
Pairlists
pairlists
int
pairlistsValid
BigReal
pairlistTolerance
int
minPart
int
maxPart
int
numParts



Static Protected Attributes

static const int
numGBISPairlists = 4
---
Detailed Description
Copyright (c) 1995, 1996, 1997, 1998, 1999, 2000 by The Board of Trustees of the University of Illinois. All rights reserved.

Definition at line 13 of file ComputeNonbondedPair.h.
---
Constructor & Destructor Documentation
---
Member Function Documentation
---
Member Data Documentation
---
The documentation for this class was generated from the following files:
---
Generated on Thu Jun 21 01:17:19 2018 for NAMD by
1.4.7